Whether you like sheltered lagoons, sea filled lidos or remote rivers, there's a wild swimming spot out there for you. We asked four experienced open water swimmers from around the world to pick their favourites. 
CARINA BRUWER, SOUTH AFRICA
 Carina is an internationally renowned musician, accomplished business woman and extreme swimmer. Her achievements include swimming the English Channel,
the Gibraltar Straits and South Africa's False Bay - the white shark capital of the world.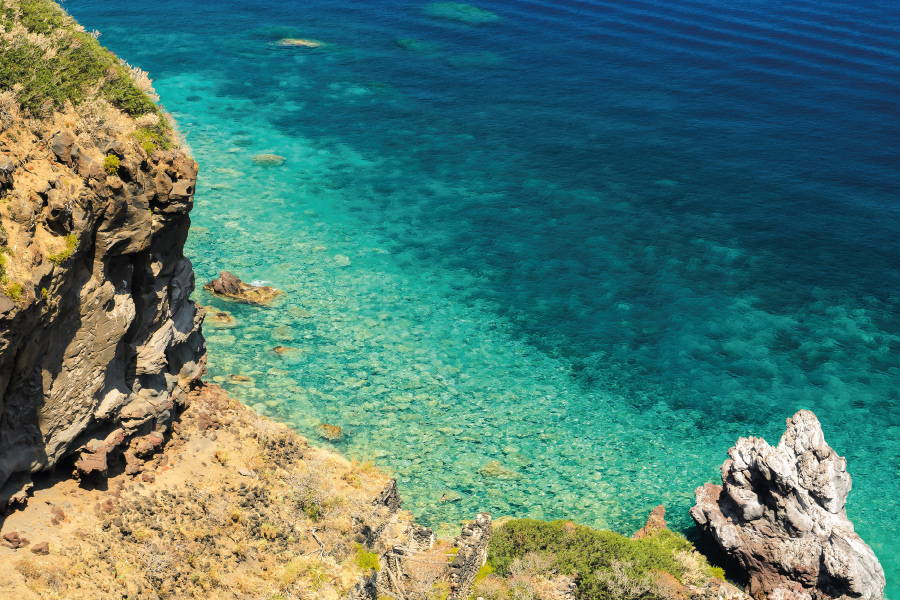 There's an island near Italy called Salina, where the film El Postino was shot. It's picture perfect, very small with very few people. When we visited, every day I would swim out in a different direction. It's a volcanic island so it looks unique, there are gigantic rock arches you can swim through, it's really an adventure. Islands are great for swimming because you're likely to be able to get out at any point. I love the adventure of discovering new villages and towns via water. 
---
KRAALBAAI BEACH, WESTERN CAPE, SOUTH AFRICA

1.5 hours from Cape Town there's a place called West Coast Nature Reserve and within that there's a lovely area called Kraalbaai, which is a little bit of paradise on the west coast. It's a lagoon so the water is not too cold, it's turquoise blue and absolutely stunning. And because it's a nature reserve it's not too overpopulated, you can just go out there and be alone with yourself and enjoy the water. 



---

The Cinque Terre is an iconic hiking route in the coastal area of Northern Italy called Liguria. Many people go on a spiritual journey there and there's a fair bit of boat traffic but if you take a swim buoy you can actually swim the whole route. The water is beautiful and not completely flat so there are a few places where you have to swim beyond a couple of breakers, which some people like, they enjoy the water being a bit more busy. It's a very tourist friendly place so there are places to stay along the way.  
Co-founder and CEO of the Type 1 Diabetes Family Centre in Perth, Australia, Bec's mission is to prove that having Type 1 Diabetes doesn't have to limit you. An experienced open water swimmer, she has raised over $125,000 doing solo swim challenges to Rottnest Island. 
GNARABUP, MARGARET RIVER, WESTERN AUSTRALIA


South of Perth, in Margaret River, which is a world renowned wine and surfing destination, there is an absolutely beautiful reef protected lagoon swimming spot called Gnarabup. I had one of the best experiences swimming there - I'd just done a training swim when a lady approached me and invited me to join her swimming group, the Swimming Women, the next day. I arrived at 7am and found about 40 ladies of all different shapes and sizes and abilities there in branded Swimming Women swimwear. We all had coffee afterwards at this little cafe there called The White Elephant and it was just a fantastic experience, I just love the community around it. 
---
NORTH COTTESLOE BEACH, WESTERN AUSTRALIA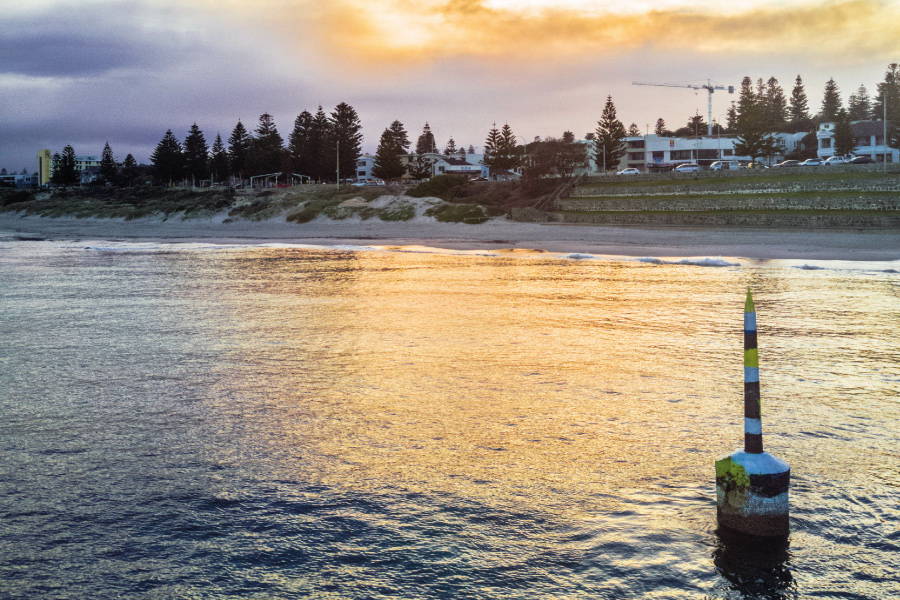 My go to swim when I'm training is between North Cottesloe and Cottesloe beaches, which are my local beaches. You swim over the reef so there's always fish and octopus and interesting things to see. The turnaround point is what we call The Bell, which is the old pylon that used to hold the shark net. It's a very historical spot, it's on all of the postcards and photos of Cottesloe beach. I love the moment where you look back towards the beach, especially at sunrise, and that golden light as it starts to come over and light up all the bubbles in the water and you've got the reef beneath you with hundreds of fish, it's pretty special. 


---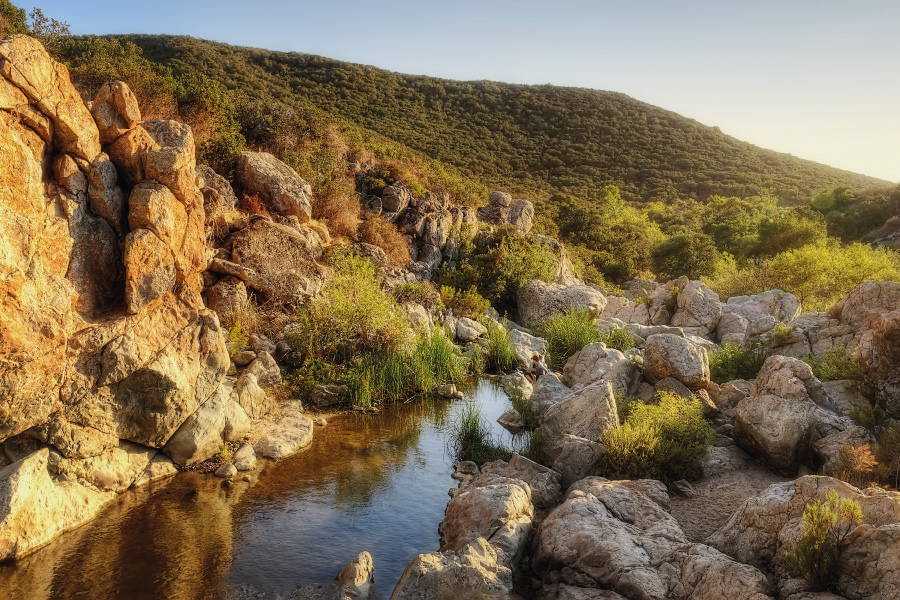 I went swimming with some friends last year in California, just near Del Mar. We had to clamber down the cliffs and jump in the water and there are these huge kelp forests underneath you. The water is deep and dark there and we swam after dark. There's bioluminescence in the water so every time you put your hand in and pull back you get this explosion of light and it's just like magic, it's really, really special. 





Based in Somerset in the South West of England, Rowan is an open water swimming coach. She runs courses and 121 sessions for beginners right up to professionals at the Clevedon Marine Lake or in the sea at Clevedon. 
CLEVEDON MARINE LAKE, SOMERSET, UK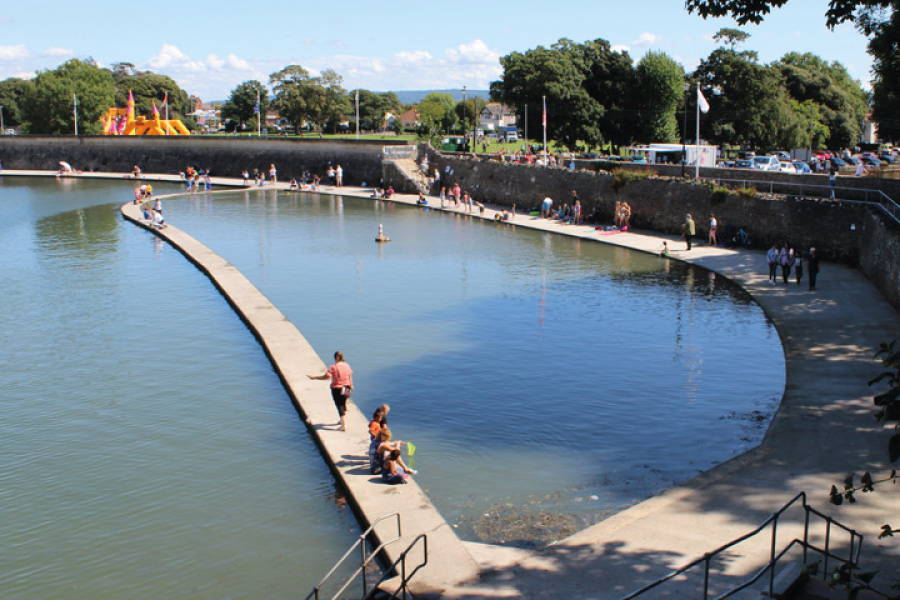 Clevedon has the third highest tidal range in the world, so the difference between low and high tide is extreme. And because it comes into a bottleneck, the currents are pretty big. But the marine lake, which is a tidal pool and is filled up once a month or so with the spring tide, provides a relatively safe space to swim. The water is contained so it's not affected by currents and tides and waves. And it's a true wild swimming spot in that anyone can go there and use it at any point, you don't need to pay or get a ticket. 


---
LAKE BLED, BLED, SLOVENIA


I went to Lake Bled in February as part of the Winter Swimming World Championships. It's an incredible location. The lake is massive, backed by mountains, alpine and unspoiled, and in the middle there's a castle on an island. There are lots of shallow entry points and beaches all around the lake so it's very accessible. Even though it was February, it was actually quite warm and sunny although the water was only 4C. It felt like spring rather than winter. 



---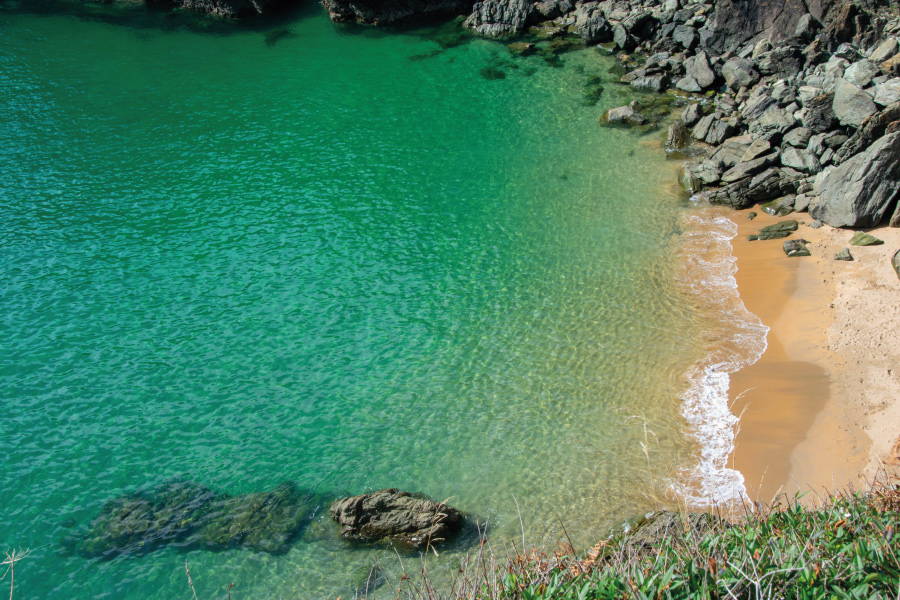 At Gara Rock you have to walk quite far to get to the beach - about a mile - so it's not overpopulated and the water is an amazing aqua blue. It's a pebbly beach but there are lovely rock formations and you can jump off rocks into the water. The water gets deep quickly - the beach shelves quite steeply - so there's depth for swimming and there aren't big waves coming in, so it's easy to get in and out and to swim and you can swim around all the little rock formations. 

 

Or if you'd rather just dip your toes in first...
Check out Christopher Beanland's recommendations on lakes and lidos:

Christopher is a journalist and the author of Lido (Batsford, 2020). He has swum in open air pools around the world, many of them natural and wild.
He lives in London and when he's not travelling he swims every day at London Fields Lido.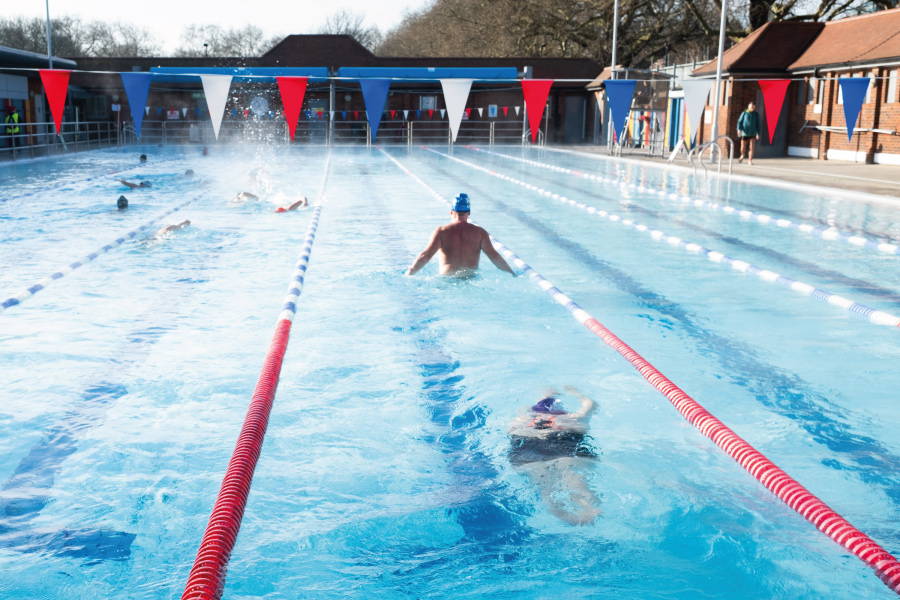 My local lido is in a park in East London and it's a kind of microcosm of being in the city. Most travel supplements are about where you can get away from everyone and be alone in the middle of nowhere but I enjoy the social and anthropological aspects of swimming. I think it's interesting to go for a swim with friends, hang out, talk to the regulars who go every day. It's a really interesting social space. 


---
BRONTE ROCK POOL, SYDNEY, AUSTRALIA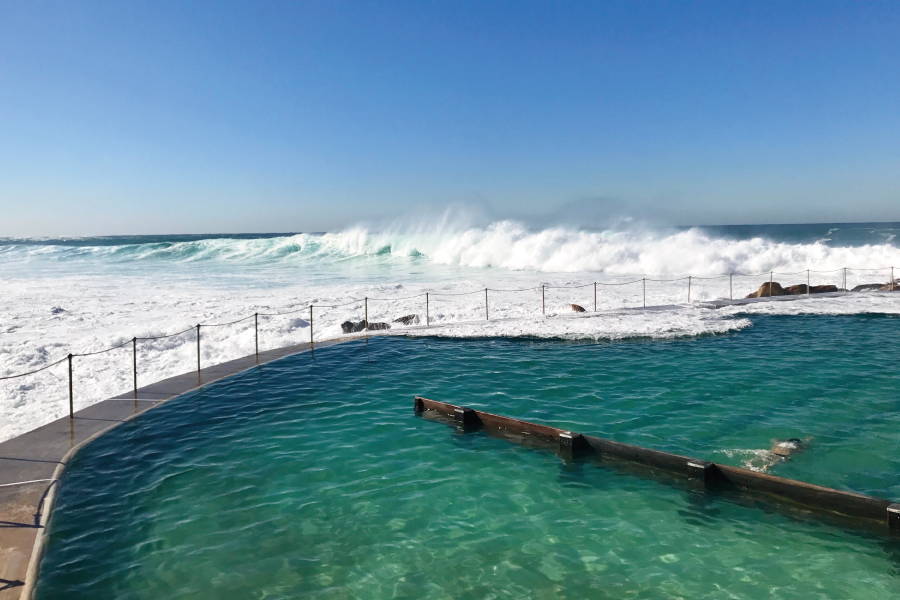 Bronte Rock Pool in Australia is really, really impressive. It clings to the cliffs and the waves crash over the edge so you're swimming in sea water but you're sheltered from the excesses. You don't have to get a ticket, you can just go and swim there. It's just beautiful. And Bronte is a lovely little town, you can get some nice fish and chips there after your swim. 
---
BAINS DE PAQUIS, LAKE GENEVA, SWITZERLAND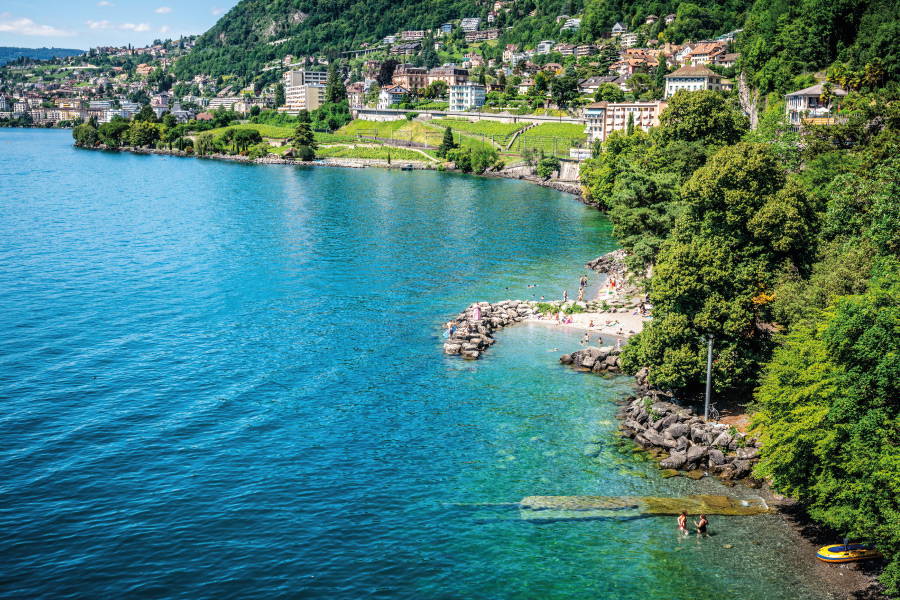 I did my first lake swim in Lake Geneva. There's a complex called Bains Des Paquis where you swim in the lake but they also have pools for kids that are full of the lake water. It's got the classic mountains in the background and a really impressive water jet that comes out of the lake. It was due to be demolished some years back but the local community saved it, which makes it even more special. 
THE MAGICAL POWER OF
WILD SWIMMING
Wild swimming is enjoying a boom, as people discover how it can help connect them with nature and improve their mental wellbeing. Keen wild swimmer Joe Minihane, author of Floating, reveals why he can't get enough of the cold...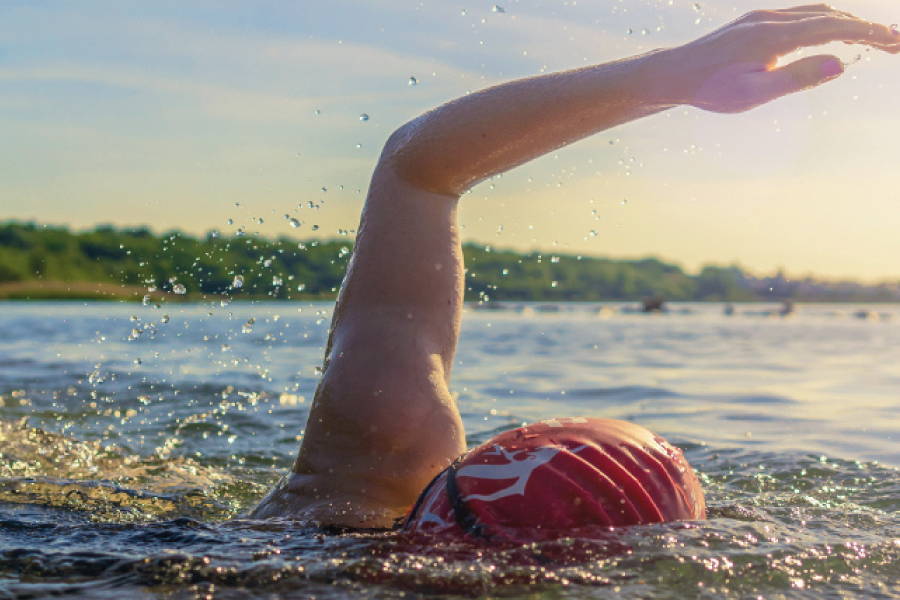 SIDE BY SIDE:
LUKE AND PETER
When 47-year-old Luke Richards, from Melbourne, started wild swimming, he discovered a metaphor for recovery. After years of addiction, pain and attempted suicide, the ocean offered connection, wonder and more life than he imagined possible - including a friend, Peter, who's own life he would go on to save.